Before the wedding season, comes the season of pre-wedding shoots. With the excitement of beginning a new chapter in a couple's life and the cutesy courtship period, prewedding shoots are meant to capture the beautiful moments that would last forever. And, just like finding a perfect venue for your wedding can get overwhelmingly confusing, finding the best location for a prewedding shoot in Delhi can also leave you in a muddle of uncertain choices. Chances are you have already decided upon the photographer you are going to hire for it, the clothes you want to get clicked in but the real struggle starts when you have to find a location that would be perfect for your prewedding photo shoot! I mean, you just can't go anywhere for the best pictures you are planning to get, right? Or can you? Well, in this segment of our prewedding section, I have listed 15 best pre-wedding shoot locations in & around Delhi, along with the respective charges, timings and address!
So, have a look and pick that perfect prewedding shoot location for you and your beau!
1. Picture Destination
Image Credits: Picture Destination
Captured By: Amish Photography
Located in Kundli area on NH1, that is, 30 km away from central Delhi, Picture Destination is a perfect solution for a couple prewedding photoshoot in Delhi. Spread over an area of 2 acres, the place boasts of lavish sets with more than 25 different backdrops along with unlimited props to quirk up your couple photoshoot. The site serves as a perfect place for prewedding photography with indoor as well outdoor settings. They have air-conditioned Makeup rooms and changing rooms so you can get a hassle-free experience throughout your shoot!
Indicative Starting Price: Rs.10000
Location:  Picture destination, 32 milestone, Kundli, Haryana, India
Contact Details: 098999 39355
2. Humayun' Tomb, Mathura Road
Image Credits: Camlition Productions
Just like Lodhi Gardens, Humayun's Tomb is known for its architectural beauty which seems perfect for a pre-wedding shoot! A beautiful mixture of Mughal and Persian architecture, the place serves as a pretty location to get the best picture with your partner. Not just the centrally located mausoleum with a double dome, the site has a beautiful garden square with pathways water channels to choose your picture-perfect spot from!
Since it's one of the most visited monuments in Delhi, couples can have their shoot done early in the mornings as the place is comparatively less crowded during the morning hours. Also, mornings are usually a comfortable time slot as the sunlight works just perfectly to get a nice picture. Plus, you wouldn't want to ruin your makeup and your prepped up look because of the heat and skin burning sunlight, especially in Delhi spring and summers!
Entry Charges: INR 30 for Indians and INR 500 for foreigners
Timings: 6 AM to 5.30 PM
Photography and Videography Charges: NIL
3. Location For You
Location For You is like a paradise in itself for all those photo freaks! One of the best photoshoot locations in Delhi. A wide area with more than 200 props to choose from, Location For You is the perfect match for all kinds of indoor and outdoor photography shoots. Apart from their stunning and unique backdrops Location For You also takes care of your smallest of needs like providing you with fully air-conditioned makeup and changing room so you get the best and hassle-free photoshoot experience!
Not only this Location For You has over 11 acres of picturesque area of natural landscapes that makes it a great location for a romantic pre-wedding photography or even a fashion portfolio.
Instagram: https://www.instagram.com/locationforyou_/
Contact details: 9899331701
4. Agrasen Ki Baoli
Image Credits: Murad Osmann
Yet another historical monument which is known for its fascinating architectural built, Agrasen Ki Baoli is considered to be photographers' favourite spot in Delhi. The mystical aura and well-defined step well that this place is renowned for would work perfectly to help you come up with a romantic prewedding photo shoot. As a fine backdrop which dates back to the 14th century, Agrasen ki Baoli can never disappoint you if you are aiming for an eternally picturesque shot with your fiance.
Entry Charges: NIL
Location:  Hailey Road, K.G. Marg, Block G,22 Connaught Place, New Delhi
Timings: 9am-5pm
Photography And Videography Charges: NIL
5. Mairaa Pre Wedding Concepts 
Want a prewedding shoot location which not only works as a romantic site to clicked at with your better half but also offers a variety of diverse backdrops and props which can be put to use as per your requirements and ideas? Well, this is what you may have been looking for! Want a sweet couple photoshoot or a classic romantic one, this place has been a favourite amongst couples as well professional photographers. The Mairaa Pre Wedding Concepts is a home to breathtaking and gorgeous backdrops giving you just the ideal picture you always dreamt of.
Indicative Starting Price: Rs.25000
Location: Radhe Radhe Farm, Subhash Chowk, Burari Road, Bakhtawarpur Burari Road, Delhi
Contact Details:   099993 49904
6. Your Dream Location
Image Credits: YDL 
Even if you are sorted with your outfit choices and poses, a bad or a substandard backdrop can bring down the quality of your photoshoot. Especially, if you are thinking of going for a prewedding photoshoot to eternalise your love story, compromising on the location would be the biggest mistake you can do! But, Your Dream Location has got it all covered for you! As an affordable and one of the most preferred photoshoot locations for couple photography, YDL is what you need to get that perfect prewedding photoshoot you have been dreaming of! The place has 30+ backdrops to choose from so you can choose whichever theme that aligns with your couple-photoshoot idea.
Indicative Starting Price: INR 5000
Location: Plot No. 75, Nangli Vihar Extn. Baprola, near Lal Convent School, New Delhi
Contact Details: 099991 84623
7.  Connaught Place, Central Delhi
Image Credits:  banjarastudios.com
Situated in the heart of Delhi, this place offers a multitude of picturesque spots to a get a brilliant shot. Divided in two circles, inner and outer, Connaught Place has a multitude of versatile picture-perfect sites so you won't fall short of pretty backdrops to create that metro-romantic effect you will love if done in a right manner. Why this place is one of the favourites amongst photographers is due to it being a fantastic amalgamation of modern and Greco-Roman architectural designs. Since it's a commercial and tourist place, the average footfall in this area is way more than any other place in Delhi. So we are saying, try getting your prewedding shoot done early in the morning or probably when the place is likely to be less crowded.
8. The Shooting Village
Image Credits: The Shooting Village
Be it the perfect venue, the themes, the backdrop, the fun props you are looking out for, we get it how intimidating it gets to finalise your decision on a prewedding photoshoot location. And to ease your confusion in finding the right site for your couple photoshoot, The Shooting Village happens to be just the perfect fit for all the couples who are planning to tie the knot forever. They have got the most interesting 35 backdrops, props ( like Jeep, Cycle, Hats, Heart Cushion, Artificial Flowers, Guitar, Piano, Mic) and themes to curate that perfect shot you are dreaming to get with your fiance. With a collection of pretty natural landscapes and manually designed photoshoot sets, you can go to this site without even thinking twice.
You can see some of The Shooting Village's pre-wedding photoshoot pictures here!
Indicative Starting Price: Rs.2000
Location: Khasra No. 77/4, Village Bhaktawarpur, New Delhi
Contact Details: 09999700350 , 09999700360
9. Okhla Bird Sanctuary, Noida
Image Credits:  avnishdhoundiyal.com
If you are a couple who loves natural settings, Okhla Bird Sanctuary would work as an immediately perfect site for a prewedding photoshoot curated in the lap of nature. Known for its eye-soothing greenery, this place serves as a nice choice if you have a shot capturing you and you fiance taking a romantic stroll in the midst of natural backdrops. As a great place to get open-space shots especially during the morning hours, Okhla Bird sanctuary would definitely work the best for couples who are nature-enthusiasts.
Entry charges per person per day: INR 30 for Indians and INR 350 for Foreigners
Location: Noida Plaza, N Block, Pocket K, Sector 95, Noida, Uttar Pradesh 201301
Timings: 7 am- 5.30 pm ( Seven Days Open)
 Photography Charges: INR 500 for Indians and INR 1,000 for Foreigners
 Videography Charges: INR 5,000 for Indians and INR 10,000 for Foreigners
10. The Roseate
Image Credits: The Roseate
There are places in Delhi NCR which are just too pretty to miss out on and The Roseate hotel, situated between Delhi and Gurgaon, is one of them. With resplendent architecture, the location would add grandeur and charisma to your prewedding shoot. And not just its architecture, the Roseate boasts of alluring outdoor views and spots with breathtaking landscaped lawns which will surely be worth opting this place as your prewedding shoot location.
Location: Samalka, NH-8, New Delhi, Delhi 110037
Contact Details: 011 3355 2211
Photography Charges: INR 75,000 for 6 hours
11. Tikli Bottom, Gurgaon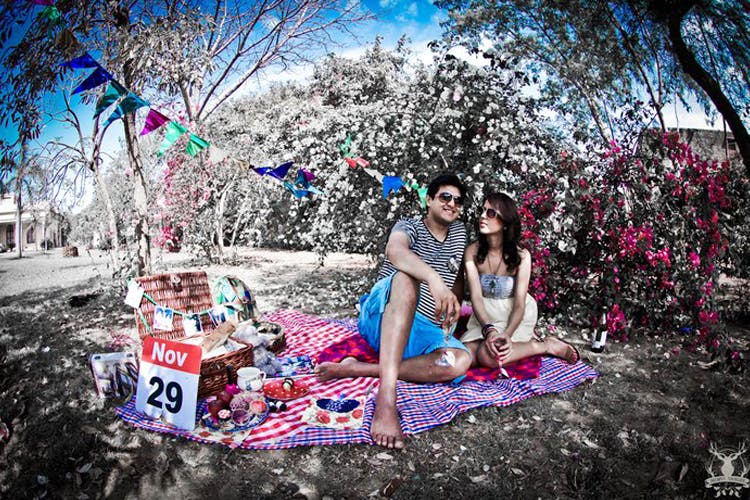 Image Credits: Morvii Images
If you are a couple who has a knack for the vintage era, Tikli Bottom is the place where you can vibe your shoot theme with the bygone times. The location comprises of Lutyens style photo set up along with a beautiful garden space. Just one and half hours drive away from central Delhi, this place is just the right fit for those serene and romantic couple shots you have been planning to go for.
Location: Gairatpur Bas Village, Tikli, Gurugram, 122101
Contact Details: 0124 276 6556
Photography Charges: INR 13,000 for a day
Videography Charges: INR 17,000 for a day
12. Garden Of Five Senses
Image Credits: Google
If you aren't planning to spend a lot on a pre-wedding shoot location and are searching for something beautiful at the same time, well, you are in luck. Located in the south of Delhi, Garden of Five Senses is a place you can get your prewedding shoot done. From the huge rocks to pretty fountains and well-designed gardens, this place comprises of numerous picturesque spots perfect for a good picture. So if you are thinking of adding a natural touch to your prewedding shoot, then this place would the apt choice for all the right reasons.
Entry Charges: INR 35
Timings: 9:00am-7:00pm (in Summer), 9:00am-6:00pm (in Winter)
Location: Western Marg, Near Saket Metro Station, Said-Ul-Ajaib Village, New Delhi, Delhi 110030
Photography Charges: INR 3971 (for 4 hours a day),   INR 56 Half day for a camera with zoom lens (4 hours)
Videography Charges: INR 52,944 Half day for the shooting of feature film (Source)
13. Studio Future Forward
Image Credits: Studio Future Forward
Spread over an area of 2.5-3 acres of land, Studio Future Forward is an amazing place for a great pre-wedding photoshoot location. Adorned with an array of colourful and scenic backdrops, the location offers 25 pre-designed photo setups all for you to choose from with themes that would rightly align with your emotions and expressions. The site has comfortable and air-conditioned dressing rooms and rest areas for you to relax and change looks for that magical prewedding shoot you are dreaming of!
Indicative Starting Price: INR 12000
Location:  Farm House 18, Valley View Greens Gawal Pahadi. Gurgaon Faridabad Highway. Gurgaon, Haryana
Contact Details: 099111 76594
14. Neemrana Fort
Image Credits: Avnish Dhoundiyal Photography
Believed to be one of the most romantic places near Delhi, Neemrana Fort is indeed a beautiful choice for those who want a regal to touch their pre-wedding photoshoot. The heritage hotel is home to seven different wings spread across 14 layers and are connected to a hill. Located in the range of Aravalli Hills, the place is known for its alluring-to-the-eyes architecture, beautiful lawns, hanging gardens, irresistible swimming pools and water bodies making it an ideal place for a pre-wedding photoshoot.
Location: 122nd Milestone, Delhi-Jaipur Highway, Alwar, Neemrana, Rajasthan 301705
Entry Charges: INR 750
Photography Charges: INR 30,000
Videography Charges: INR 48,000 for 8 hours of shoot.
15. Lodhi Gardens, Lodhi Estate
Image Credits: wedstoriesbyvjharsha
Covering a span of 90 acres, Lodhi Gardens are renowned for the lush green gardens, flowers along with monuments which date back to the Mughal era. If you are a couple who has a thing for historical monuments and natural beauty, then this place will give you numerous spots to pose romantically with your fiance! When it comes to timings, mornings are deemed as the perfect time to get good scenic shots for a pre-wedding shoot. Why? Less crowd and great lightings will help you get the perfect picture you are planning for!
Entry Charges: Nil
Visiting Hours – 6:00 AM – 7:30 PM
Photography and Videography Charges: Nil
Well, this was our list of best locations for prewedding shoot locations in and around Delhi! If you have more places to suggest, do share in our comment section below!
Tags:
beautiful prewedding shoot locations
,
best prewedding locations
,
best prewedding photoshoot for couples
,
Delhi NCR prewedding shoot location
,
free prewedding shoot location
,
paid prewedding shoot location
,
prewedding photoshoot
,
prewedding photoshoot for couples
,
prewedding shoot locations
,
Prewedding Shoot Locations in and Around Delhi NCr
,
prewedding shoot locations in Delhi NCR
,
romantic prewedding shoot location