Selecting a wedding venue is probably the most important and one of the biggest decisions you'll make as a soon-to-be-married couple. While there are a plethora of venue options for an Indian wedding ceremony, choosing the right one is dependent on a multitude of significant factors. Besides, a wedding venue selection these days is so crucial to planning a wedding as it has started influencing the vendors, budget of one's wedding, decor requirements and even a couple's wedding attire. Yeah! That's true, peeps! And, to help you with the same, in this article I have listed 16 most useful tips that will surely help you while going on a wedding-venue hunt!
So read on for a Happy Wedding planning!
1. Estimate the size of your guest list
Image Source: Pinterest
We know, a wedding in India means you have got to invite everyone you know from your contact list! But, that doesnt mean you have got to send out your wedding invites to every distant relative or friend whom you rarely talk to or meet with. It's always a smart idea to keep a low number than to deduct people from your list. So, try keeping the length of your guest list to the minimum. Not only will it cut down your wedding expenses but also save you a lot of time to plan your wedding in the best possible way. Besides, you have to pay the most attention to your wedding venue's accommodating space. For there is no point having 2000 people at a place where only 500 can be accommodated.  After all, a crammed up wedding venue would only create a chaotic scene on your special day!
2. Discuss how much you and your family are willing to spend
Image Source: Google
Setting a definite budget is the most important factor while you will be looking for a perfect venue for your wedding. Discuss how much you and your fiance are willing to spend on your wedding planning, decorations, catering and other expenses.
3. Do a comprehensive research on your prospective venues
So what if you have found the 5 best wedding venues in the city? The next most important thing to be done is to narrow your list down to that one which suits all your wedding related requirements. Search on social media, Google everything about the venues. You will find a decent number of testimonials on a venue's social media page to pick the right one out of all. Spend as much of time as you can, until you are convinced that a particular venue would be the best choice for your wedding planning.
4. Try looking for a venue that is easy to reach.
Image Credits: Pinterest
Not just for you, but the wedding venue should be easy to reach for your guests as well. You have to consider the accessibility of a wedding venue before you seal the deal. After all, there is no point booking a venue where even cab drivers will be clueless to reach to. Another important factor while choosing a wedding venue is how the mobile networks work in an area. There is nothing more irritating than bad reception on a wedding day! Right?
5. Call around to check the availability of your chosen venue and book accordingly
Image Credits: Pinterest
Since, Indian weddings are usually planned according to auspicious days and periods (also known as, Muhurats) finding a venue just before the wedding season starts would be a challenging task. Hence, it is practically smart to book the wedding venue at least 6 months in advance to avoid the last minute hassle. Also, the sooner you book a venue, higher will be the chances of getting a good discount on the deal.
6. Pay attention to the flooring of a venue
Image Credits: Pinterest 
Yes, I am talking about the actual floor of a venue. If you are booking a banquet hall, check what kind of flooring does it have. Tiles, wooden flooring or carpets? See what you as a bride, will be walking on in your bridal lehenga or dress, and those wedding shoes you have recently bought for your day. If you are going for a farmhouse-wedding, see if your wedding or any other ceremony will take place in a garden space. Because there is no fun in performing uncalled for acrobats on slippery or uneven floor settings neither it is fun wobbling in your wedding shoes in a grassy floor, that too on your own wedding day!
Click here to read what tips and mistakes you should know before buying that perfect pair of wedding shoes!
7. Don't book the first venue you see
Image Source: Pinterest
Yes! NEVER fall for this trap. It doesn't matter if the first venue you see is the most beautiful wedding place in the city. You have to search for more and come up with a list of prospective venues before you make your choice. Doing this will not only lead you to pick up the best option available but also will give a fair idea of how other service providers are charging and offering a venue-booking deal.
8. Try reaching out to the couple who have had their weddings at the same venue
Image Credits: Pinterest
Resonating the idea conveyed in point 3 of this article, you can also use your social media research skills to contact the couples or families who have had their special events organised at a particular wedding venue. Usually, people do share their experiences with a certain service on a vendor's Facebook page, hence, it would easier for you to have a talk with a couple who got married at the same venue last year or in the previous wedding season.
9. Before you finalise, visit and make your expectations clear with your wedding planner and decorator.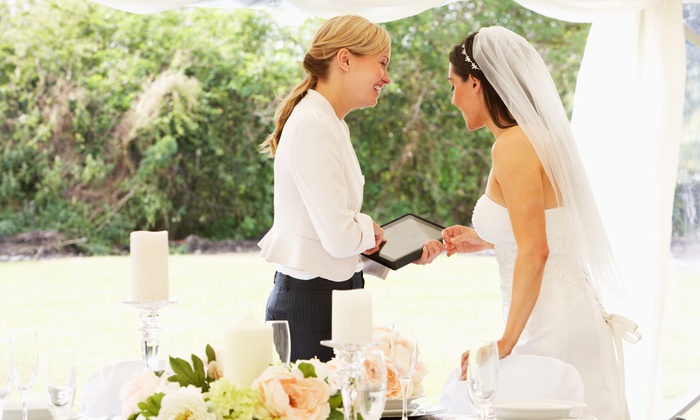 Image Credits: Google
It's something which you cannot miss to cross out from your wedding planning list. Before finalising on the venue, do visit the place with your wedding planner and (or) decorator to convey the idea how you want everything to be done. Be it the decorations, the seating arrangements, any adjustments in the venue premises you need to get made, make sure you make your expectations clear with your wedding planner so that they can further start working on the same with the venue's management crew.
10. Note down the pros and cons of that particular place.
Image Credits: Google
Is there something you especially would like to have or get removed from the venue for your wedding day? In either of the cases, it's good to note down the pros and cons of a place you are considering to book for the wedding. Make a list of what you liked about the place and what you didn't. Doing this will ease up the process of choosing the best wedding venue, which otherwise can get confusing for anyone who is looking for the same.
11. Pay heed to the weather you will be having your wedding in!
Whether you are planning to have an indoor wedding or an outdoor one, whether in India plays as the most significant and determining factor while going for a particular wedding venue. So, we are saying, choose the venue wisely and according to the probable weather conditions.
12. Find out if the venue offers in-house catering, and ask for a tasting-session before making any decision
Image Credits: Pinterest 
Doing will definitely ease up your hunt for the perfect wedding venue. Why? Because A- It will reduce the necessary efforts needed to find a caterer, and B- It will help you decide better out of all the other venues that are offering the same services. Don't be reluctant to ask if the venue-management can arrange a food-tasting session for you. So, even if they do, you have got to see if what they are serving is the best or not. Because food is something you can not comprise the quality of in an Indian wedding!
13. Ask about the mode of payment
Since booking a venue these days is no more a matter of few thousands of bucks, it's better to know how the venue providers want the amount to be paid by you. You have got to be clear with the mode of payment in which your money will be paid once you finalise a venue.
14. Don't be shy asking for an ongoing discount
Image Credits: Google
By the discount-seeking power invested in us, no purchase or deal can be deemed complete if Indians stop asking for discounts.  Aint that right, Y'all?
Well, jokes apart, I guess there is no harm asking for a concession knowing you are sure about the place. However, that doesnt mean you have to sound desperate for a discounted deal. Just be kind while seeking a reduced bid and try coming up with a decent amount you can pay. Also,  if you are comfortable choosing an off-season wedding date, the chances of booking your dream venue at a lower price will likely to be higher.
15. Be kind, but don't be pressurised to book a venue because of an insistent venue-assistant!
You know how a salesperson can be insistent enough to actually lure into a deal with his ultra-strong convincing power. But, as mentioned above, it's never a good idea to just believe what is being told. Check the area, assess it, find everything you may like and dislike about the venue, talk to your partner and family about it, research about it as much as you can and then choose a venue. It's okay if you feel you aren't fully convinced of the venue, its location or different other factors. Be sure to weigh all of the aspects in comparison to your venue-requirements.
16. Choose the one, which you and your fiance agree the most upon.
Image Credits: Pinterest
All said and done, a mutual decision upon your wedding venue should be of the highest importance. It's you and your fiancé (or fianceé) who should be the most comfortable with a particular wedding venue. If your partner agrees upon a particular place with you, it will directly involve the comfort of his or her side of the family as well. So, make sure you do have a talk with your partner before finalising on a specific wedding venue.
Well, I hope this piece on finding that wedding venue of dreams has helped you gain some useful insights for an easy wedding planning.
Do let us know if you have something on wedding venues to share with us!
To get more ideas for a fantastic wedding experience, follow our blog exclusively for the future Indian brides, grooms and everyone you see in a wedding!
Tags:
2018 weddings
,
beautiful decor ideas
,
Indian wedding tips
,
indian weddings
,
latest news on indian weddings
,
updates on wedding functions
,
wedding ideas
,
wedding photography
,
wedding planning
,
wedding tips
,
wedding venues