While it's true that a wedding is all about the two people who come together, it's not entirely about them. It's also about the people who attend it. There are some awesome ways for giveaways in which you can make your guests feel special. Yes, we are talking about your guests. From your close friends and family to long-lost friends whom you haven't seen for a decade, everyone's a part of the big, fat Indian wedding.
Image Courtesy: The A-Cube Project
You want your guests to feel welcomed and loved if you want them to cherish the memories for years to come. That's why it's essential you set the perfect tone, right from the moment your guests step in. So, how do you Wow your guests from the start? Start at the beginning of course. Yes, we are speaking about the creative and awesome ways to greet your guests. Here are some kickass ideas for you to get inspired.
#1: A Thoughtful Welcome Bag
Image Courtesy: DKreate Photography
A welcome box is such a cute and fabulous way to welcome your guests. Fill up the box with local delicacies, travel guide or map of the town and a list of the scheduled activities you have in store for them. An individual welcome note from the bride and groom is one of the most awesome ways to greet your guests. Also, this will make them feel special and delighted to be a part of your ceremony.
#2: Dance floor lifesavers
Image Courtesy: The Wedding Soul
Place a basket filled with dancing shoes aka flip-flops in your wedding colours at the entrance. The female guests of your troop will be surely delighted with this thoughtful gesture. They can slip off their stilettos and get ready to dance the night away.
#3: Travel Guide
Remember that a destination wedding includes a bit of sightseeing and fun and frolic around the town for guests. Help them enjoy their stay by giving them a travel guide with a brief history, important landmarks, and suggestions for local restaurants. Or you can even organise a sightseeing tour for out of town guests and overseas visitors.
#4: Keep the Munchies Ready
Image Courtesy: Dev Chheda
If there are breaks between the ceremonies, ensure that you set up a snacks counter for your guests to munch on, while they wait. A table with short eats, chaats, candies, drinks that guests can help themselves to is a great idea. You can even opt for live counters.
#5: Basket of Essentials
Image Courtesy: Wedding Tales
If it's an outdoor ceremony, keep a basket of bug repellent, sunscreen, sunglasses or shawls for guests to make use of. They'll thank you when the mosquitoes are kept at bay.
#6: Return Favour
Image Courtesy: Pink Parrots
Give a thoughtful gift to guests to take home with them as a reminder of the ceremony. Fans, seeds, plant pots are an excellent choice.
#7: Schedule of the ceremony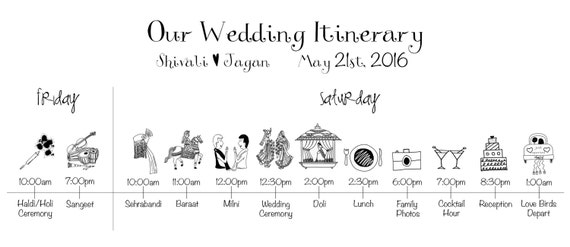 Image Courtesy: etsy.com
This one is absolutely crucial as it'll keep your guests informed of what's happening and above all, they'll know how long they should wait before they can enjoy your tasty wedding feast.
Apart from these, some entertainments like a magician or a caricature artist will help to keep your guests feel welcome. Make use of these ideas here to get the ball rolling!
---
Feature Image Courtesy: The A-Cube Project
---
For more information related to weddings, jewelry, venues, photographers and much more, checkout our website and blog section.