This is meant for all those mushy and cuddly newly-weds who are enjoying the new rain of romance in their life. So, if you're one of them who has recently tied knot and is experiencing this sudden rush of adrenaline in the system, we have got a feel-diary for you! Just so many ways to enjoy your married life and how you can do it is just quite fun!
These 8 things listed here will make you scream "GOTCHA" at the top of your lungs, after all, relationships and feelings go hand in hand, don't you think so??
Everything Seems Red, Rosy Red!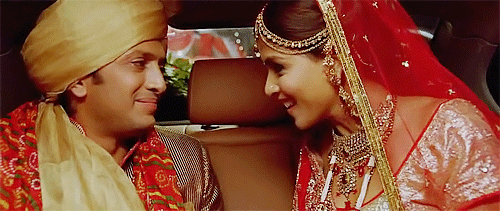 You know that feeling when you're so smitten in love that everything that your partners does somehow drowns you into the feelings of love & romance? Yeah, that's how it is for couples in love, even the sky looks red!
The 24*7 Bling Advertisements
Every newly-wed couple is expected to shine with jewelry and all that bling quite literally. With that sparkling jewelry and bridal accessories on the neck, ear, hair and hands, one looks nothing less than a model for a 24*7 running bling advertisement.
Happy-Dent Faces
With a parade of relatives coming to meet you everyday, you just have to sit there, smile back and listen to them. You need to show your pretty and happy dent faces all the time- even to those relatives who you don't even know!
High On Cash!
Well, it's one advantage of getting married. With hundreds of relatives, come hundreds of envelops loaded with money! Be all set to open drawers stacked with the wedding cash from the guests. We just hope that the wedding cash does not come as demonetized notes of 500 and 1000 rupees. 😛
"So When Are You Giving The Good News?" All your friends and relatives, literally all of them, are constantly teasing you or asking you about your plans to get pregnant! One slight hiccup, feeling of vomiting or nausea and there you see- so many anxious faces wanting to check whether you're pregnant or not, like serious!!
New People, New Life!
For a girl, it's no easy deal to leave her home, her family and shift to a new place for life. However, if you're lucky enough, you might get family and friends that take care of you just like your own family and will be happy to make you a part of their world!
The 'Maid' Stories
This one deserves a special mention. How can we not talk about this while we're discussing about everything else that the newly-weds can relate to? You just cannot ignore those stories about which maid stole a ring from the jewelry box and which one is not doing her work properly!! xD
For wedding related inspiration, ideas and latest trends, CLICK HERE!