While scavenger hunt, a wild trip to Goa, a night out with your ladies, may be the most promising and fun bachelorette party ideas for all the would-be-brides.  But, let's be completely honest, how much can you recreate those overly-cliched bachelorette traditions? (not to forget how the internet is filled with the same stuff stemming from different sources!) Deep down you know, there will be a friend or two who will bring a naughty-cake, will crack some super cheesy but worn out jokes, leaving you obliged to laugh at them and savour the phallic-shaped piece of pastry! It's not like you have to be okay with the traditions that are so 2010, at your own bachelorette party! Right? And therefore, to save you from those worn-out ideas, we did some research and came up with some new and unique games that will keep you and your girl squad entertained throughout your bachelorette party!
Naughty or nice, drunken games or not, we have got some super amazing ideas for every bride-to-be!
1. Bra Pong
A hen party is incomplete if don't talk about the latest Victoria's Secret show or probably who is wearing the fanciest of lingerie tonight! But to make your girls night a bit more super exciting, there is something you can definitely do with some oldies from your collection! A fun DIY bachelorette game, bra pong can be a fun addition to your all-girls' party! And this is how bra pong is played:
So, you simply pin a few bras on a large board ( you can make it as fancy as you want) and allot variable score points to each of the bras. Your girls will have to bounce a ping pong into the cups of a bra. Whoever scores the highest, will get a special prize or gets to give a dare of her choice to the lowest scorer!
THESE ARE THE 8 COOL & TRENDY THINGS YOU CAN GIFT YOUR BRIDESMAIDS ON YOUR BACHELORETTE!
2. Drunk Uno
Image Via Pinterest
If your girl gang loves playing cards with a glass of scotch or wine in their hands, this one's a perfect game for you!
If you know how to play Uno, start off by drinking one shot at the beginning of the game!
And as the game proceeds, this is how things will start getting interesting:
Drink when:
1. You pull the same numbered  (or coloured) card as the player before.
2. When you pull a Wildcard, other players have to drink as many shots as you want them to!
3. The person next to you draws a reverse card and yours is the next chance.
4. Whenever someone says Uno, everyone has got to take 3 shots in a row ( or half a pint of beer)
5. Whenever a Wild Draw 4 card is pulled, everyone has to take a shot or drink a full glass of beer!
6. Whenever a Draw 2 card is pulled by the player prior to you, you have to take a drink!
Keep drinking, oh! We mean, keep playing till you run out of cards! *wink*
3. What's In Your Purse?
It wouldn't be wrong to say that us girls can have the entire universe packed in a bag, regardless of the size that a bag comes in! TBH! It's easier to find Nemo in an ocean than find a pair of keys in girls bag within 30 seconds! Aint' that right, girls? So, why not use the archaeology of your purse to turn into a fun bachelorette party game? As simple as it sounds, the game will be an entertainer and shocker (for many) for the types of things you will find in a girl's purse varies from one to another!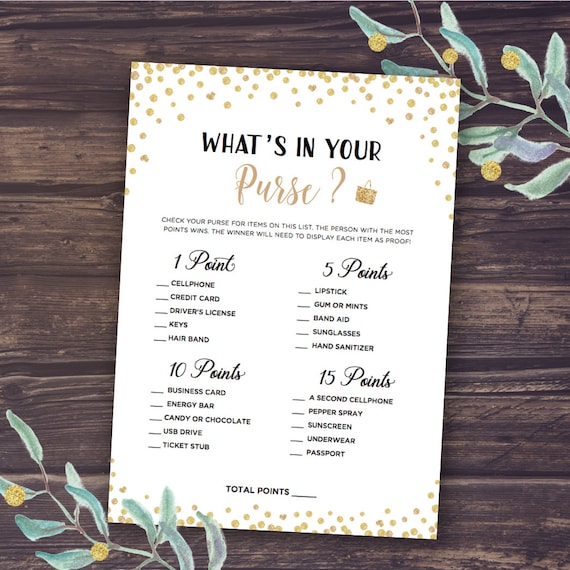 Image via Etsy
4.  Match The Movie Hunk With His Dialogues!
Image via Google
George Clooney, Bradley Cooper, Benedict Cumberbatch, Hrithik Roshan, Shahrukh Khan, Channing Tatum, Ryan Gosling, Ryan Reynolds, Leonardo Di Caprio, Tom Cruise, Brad Pitt, Chris Evans, Will Smith, Matt Damon, Ranveer Singh, Ranbeer Kapoor, Jamie Dorman…Umm…Yeah, the list is a never-ending one, and I am sure you and your girls must have watched their films. So, if your group is filled with movie buffs who are good at remembering these hunks' dialogues, the game can be a great icebreaker for your old-time and new friends at your bachelorette!
How to play:
All you have got to do is create a list of your group's favourite movie stars with their famous dialogues in a random manner, and whoever gets the highest number of correct matches can be given a special gift or a can assign a task to the one who scores the lowest!
5. Impress the Bride with Your Cocktail!
Image Via Pinterest
If you are having a private open bar at your bachelorette, here's another drinking game with all your girls getting a chance to show off their bartending skills! Since your private open bar will have a variety of spirits to play with, you as a bride, will be amazed or amused to taste the number of drinks you are gonna taste! The bridesmaid who impresses the most with her cocktail will be the winner!
6.  Upload a Selfie and Win With the Most Number of Likes or Views!
Image via Sunny Dhiman Photography
Since most of us are active social media users and love sharing our best moments with our contacts and followers, there is no doubt that your bachelorette party can become the next trending thing on these platforms! The rules of this game start and stop at uploading a selfie on any one of the social media sites! Whoever gets the most likes and views will be a winner at the end of your party and meanwhile, this game will continue, you can go back to any of the above-mentioned games!
Rules: Your bridesmaids must upload the picture with your wedding hashtag! And whoever wins the game, the bride will take her on a shopping date!
So, which game(s) will you play at your bachelorette party?
More on fun bachelorette party:
7 BEAUTIFUL NORTH INDIAN DESTINATIONS FOR A PERFECT BACHELORETTE WEEKEND!
ULTIMATE BRIDE'S GUIDE TO HAVING AN AWW-SOME BACHELORETTE PARTY
HERE'S A GUIDE TO SCORE NAUGHTY CAKES FOR BACHELORETTE
Feature Image Via Shades Photography India 
Tags:
amazing prewedding ideas
,
bachelorette destination
,
Bachelorette Party
,
bachelorette party drinking games
,
bachelorette party games
,
bachelorette party gift ideas
,
bachelorette party ideas
,
brides
,
bridesmaids
,
DIY Party Ideas
,
fun party games
,
gift ideas for bachelorette parties
,
party game ideas