One of the most exciting parts of my job is to find the most interesting pictures from real-weddings! And, today while I , one thing that recurrently caught my attention was how modern-dulhas have been moving away from the conventionality of entering on a horse back by coming up with cool and new ideas to make their entrance a quirky affair! And, if you are one of those would-be-grooms who want to add a unique touch to their wedding entry, the below listed pictures would work perfectly to help you curate new and spectacular idea for your dhinchak groom entry! Trust this, your wedding guests won't be able to take eyes off you on your special day!
 1. Straight Outta Gotham!
Typically, the best is saved for the last. But, thanks to our love for Batman, I couldn't keep ourselves from featuring this groom's entry as my first and most favorite! *heehee* I mean, just look how amazing it must have been for a groom stealing eyes for all the cool and right reasons! Besides, who thought, an Indian groom would ever make a kickass baraat entry that too in a Batmobile!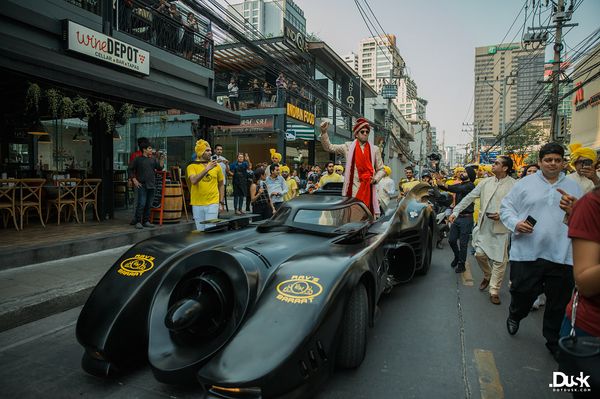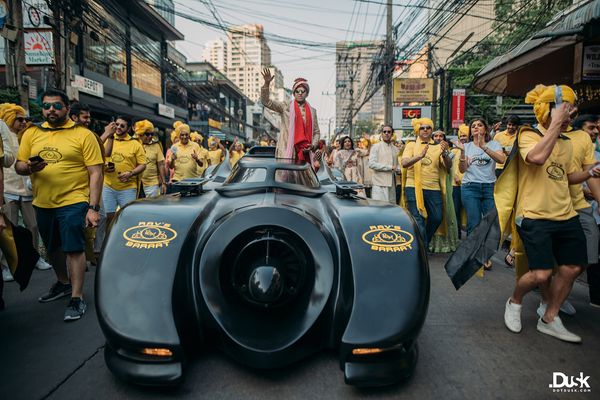 Image Credits: DotDusk Studio 
2. Because Being Mainstream Ain't Their Style!
You may have seen many grooms coming in a Limo or a Merc for their baraat entries, but Indian grooms are famous for a unique way of adding that fun and quirky element to their wedding entries! Making your way to your wedding venue in a creatively painted and decorated auto-rickshaw seems like a cool idea for all the fun-loving grooms out there!
Nothing looks more interesting than a groom cheerfully posing on a decorated auto-rickshaw during his baraat entry!
Image Credits: Balaji Entertainment
Image Credits: The Wedding Shehnai
3. When Being 'Hatke' is His Way!
Talk about bringing his own party along for the wedding! We bet, you will find this one as one of the most intriguing ideas for a groom's entry!
Image Credits: ShadesPhotographyIndia
4. All Set to Take Her Dulhaniya Away!
Who needs a conventional groom entry, when you can turn up in a jeep at your wedding? While a bullet has become too mainstream for a wedding entry, this new trend on arriving in a jeep echoes style and swag present in the same frame.
Image Credits: LifeWorksStudios
5."Chuck going on a horse-back, I'll take the bus to my wedding venue!"
Yup, probably one of the most dramatic groom entries ever! Such a fun and unique idea to add a unique element to your wedding memories!
Image Credits: Saurabh Rungta Photography
6. Literally the Most Eco-Friendly Groom Entry Ever!
Well this one has got to be the cutest groom entry we have ever seen for just one simple reason. This amazing groom neither chose a vehicle nor a horse (or an elephant), rather he opted for a bicycle at the time of his baraat-arrival!
Image Credits: IndianWeddingSite
So, any ideas you liked for taking your groom-entry style to a whole new and crazy level?
For latest wedding trends and ideas stay updated with our blog!
Tags:
amazing wedding photography
,
best photography idaes
,
best photography ideas
,
coolest wedding ideas
,
creative groom entry ideas
,
excited indian grooms
,
groom entry ideas
,
groom in bat mobile
,
indian groom ideas
,
indian grooms
,
indian wedding trends
,
wedding ideas
,
wedding themes
,
wedding trends 2018