Maternity photo shoots have to be one of the cutest ways to capture the happiness of expecting parents! And why won't they be? When a new baby is on the way, it's an exciting period for a couple. In fact, dropping all the archaic inhibitions about announcing a pregnancy, today's moms and dads-to-be are eternising their joyous journey  by incorporating new and various ideas for an adorable maternity photo shoot. So while looking for the cutest ways of welcoming the newest member of the family, we spotted two cute and beautiful prenatal photoshoots of couples who posed with their precious furry kids and the pictures were undoubtedly a visual treat for us! And of course, we couldn't stop sharing them with you!
So, enjoy the photos!
A Bengaluru couple who was advised to get rid of their pet dogs and their answer was this amazing photo shoot!
Pinterest
So when Sanjana Mandappa and her husband found out they will soon be welcoming their first child together, friends, family and even the doctors asked the couple to get rid of their five dogs. Instead, they came up with this great idea of including the dogs in their maternity shoot which obviously sent a strong message showing how important their furry family members were.
How sweet is this?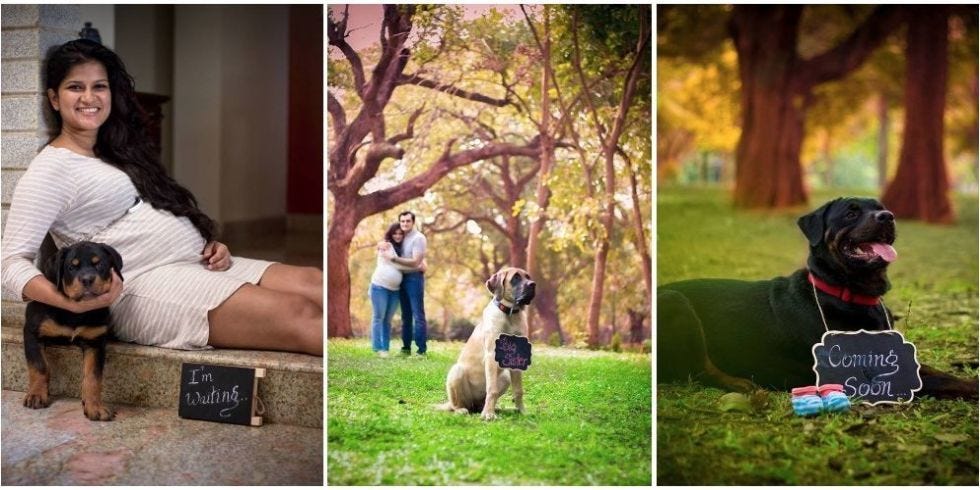 Image Courtesy: boredpanda
Sanjana Mandappa took to Facebook to share how her pregnancy was a difficult one, and how her pets actually helped her with the stress.
She shared saying, "My dogs are the reason I got through my pregnancy with my sanity intact. The days I spent crying, I had the comforting weight of Diego's head on my lap reassuring me things would be ok. the nights I spent on the bathroom floor, Leo kept me company, gently pawing me now and then to see if I was okay. I lost a very special little girl along the way, Leela, who kept me smiling with her silly antics till the end. When I could finally fall asleep, I had Cujo resting at my feet. I couldn't afford to stay in bed feeling sorry for myself when I had these kids depending on me."
Aren't dogs the cutest and most angelic creatures in this world?
Image Courtesy: Pinterest
2.  Mommy, Daddy and Their Two Adorable Shih Tzus
It didn't take even a second for us to gush over this cute and graceful prenatal shoot done by Amrita Samant! In her blog, Amrita has mentioned how great her experience was with this family of four ready to welcome a baby boy into their lives. Every image has beautifully encaptured the happiness of the expecting couple along with their pups adorably posing for the pictures.
As expected, the shoot turned out to be a lovely one!
Images Credits:  mommyshotsbyamrita.com
Are you also planning to get an adorable photoshoot like these? We have a fantastic list of professional photographers who specialise in maternity photoshoots! All you have to do is, click here!
Tags:
adorable dogs and cute maternity shoots
,
adorable maternity photos
,
amazing maternity photoshoot
,
amazing maternity photoshoot ideas
,
beautiful maternity shots
,
best photography ideas
,
candid photographers
,
creative photographer maternity photography
,
cute dogs for maternity shoors
,
cute maternity captures
,
dogs and prenatal shoots
,
dogs in maternity shoots
,
fun maternity captures
,
indian cute maternity shoot with dogs
,
indian maternity shoots
,
maternity photoshoots
,
maternity shoot pictures
,
maternity shoots with dogs
,
photographers for maternity shoot
,
photographers for maternity shoots
,
prenatal photoshoots
,
pups in maternity shoot india
,
ute dogs for maternity shoots