Do you know what time is it? "Ditching-lousy-and-outdated-wedding-favors" O'Clock! Yes! It's high time we move on from the typical Ganesha idols, wholesale good-for-nothing 'show pieces' and boring crockery sets!
An Indian wedding is a great deal for the bride, the groom, and their families and not to forget the invited guests. A lot is done to keep the athithees happy during the wedding function, but lack of uniqueness in wedding return-gifts is one thing people do not pay much heed to. Therefore, we have come up with some unique return-gifting ideas which will be perfect for your guests!
Don't worry, they don't have to be expensive because when it comes to weddings it's the thought and presentation that can make a huge impact on the success of the event! So read on and know what all you can choose from as an unforgettable wedding giveaway for your guests!
Sunglasses for Sunny Weddings

Image Courtesy: Pinterest
Give your guests some cool and colourful sunglasses to quirk up their traditional wedding outfits! These fashionable gifts will not only come in handy during an outdoor ceremony, like Mehendi ceremony but can be used even after the wedding!
Cute Tote Bags
No! Don't go to a wholesale market, and buy 100s of bags with the same design! With the ease of internet, you can have personalized tote bags made by hiring vendors who specialize in this craft.
Image Courtesy: Pinterest
Customized Bottle Openers
A bottle opener is a common thing found in every household. You can gift customized bottle openers with the bride's and groom's name or just their initials engraved on them!
Image Courtesy: Pinterest 
Personalised Luggage Tags
Planning a destination wedding? Why not have customized luggage tags as the wedding favours for your guests! Since you have the list of all the invited guests, you can ask the tag maker to make one for each of your guests with their names on it! I am sure, your guests will use them for a very long time!
Image Courtesy: Pinterest
Image Courtesy: Pinterest
Personalised Glass Ware
Unlike those boring and outdated crockery sets, you can gift customized glassware to your guests. For example, you can have the wedding date or the marrying couple's initials printed on the wine glasses to make it more interesting!
Image Courtesy: Pinterest
Quirky Coaster
Coasters are easy, affordable and widely used in a household. We are certain your guests will love them as a gift from the wedding.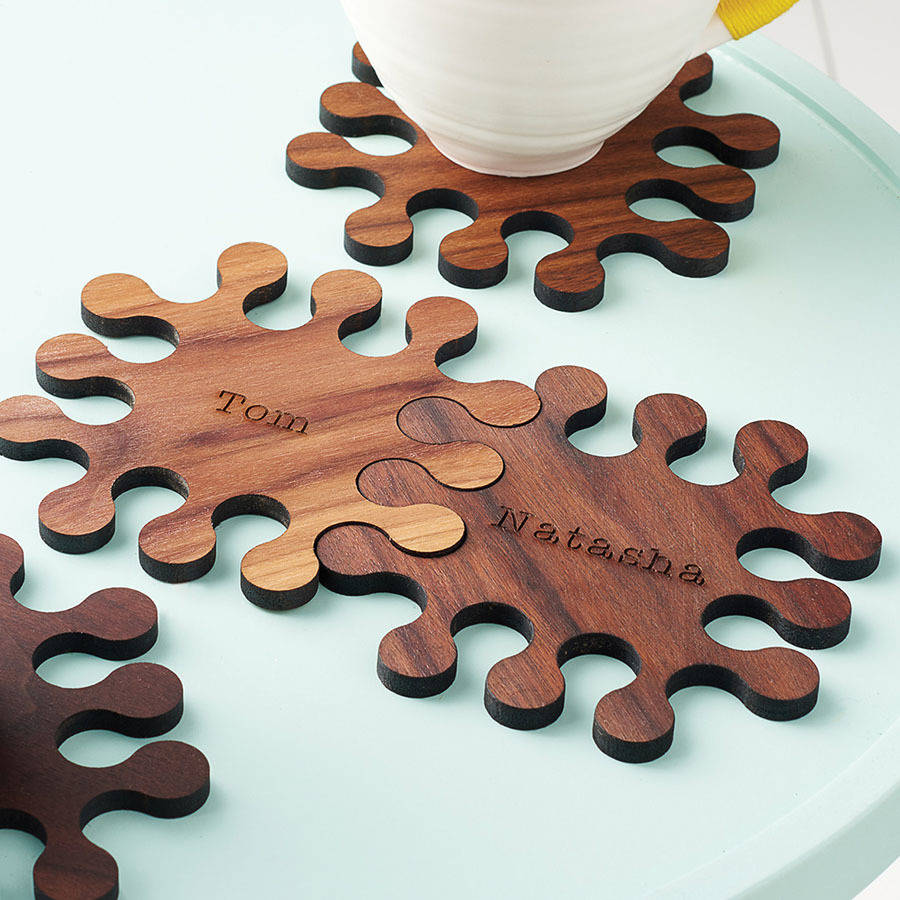 Image Courtesy: Google
Notepad with Personalized Cover
A notepad as a gift can never be a wrong choice!
Image Courtesy: Pinterest
Scented Organic Soap and Candles
People always love receiving something which gives out a nice scent! And giving scented organic soaps and candles will give a nice touch to your wedding favours. You can choose the fragrance of the soaps and candles as per your liking and preferences.
Image Courtesy: Pinterest
These scented candles with ethnic prints will surely be loved by your guests!
Image Courtesy: Pinterest
Succulents
How about these teeny-tiny succulents as wedding favours? These are so small and cute that guests can put them in their houses or even on their office desks! Anyway, who doesn't like a bit greenery treating one's eyes!
Image Courtesy: Pinterest
Popcorns
POPCORNS! It's pretty obvious that almost everyone loves having popcorn!
Well, you can have bags of flavoured popcorns as return gifts for the guests. Kids will definitely enjoy choosing their own packet from a diverse range of Caramel, Cheese, Salted, Pepper and Sweetened Popcorn!
Image Courtesy: Pinterest
Instantaneous Pictures
Image Courtesy: justkapture.com
We cant even fathom to estimate the number of pictures which are clicked during a typical Indian wedding. In other words, it suggests that there is no one who doesn't love getting clicked? And how about if we tell you there is a way to get those amazing pictures printed at a wedding ceremony? JustKapture Innovations can do that for you! To know more, click here!
Coffee beans and Customised Tea Bags
A bag of quality coffee beans is something which can never be a fail as a gift idea. In fact, these days, you can even gift custom-made tea blends as wedding favours.
Image Courtesy: Pinterest 
Seeds
Many people have started giving seeds as wedding favours, due to these being eco-friendly as well as affordable. A nice and thoughtful gesture like this is a nice way to have your guests remember you and the wedding party they attended.
Image Courtesy: Pinterest
Cookies
While 'Shadi Ka Ladoo' will always be the most demanded sweet during a wedding weekend, it's never a bad idea to include something new to the list, like chocolate cookies! After all, us Indians love having sweets at any occasion.
Don't these mehendi designed cookies look tempting? #Heart-eyes
Image Courtesy: Pinterest
Image Courtesy: Pinterest
Don't know where you can get the giveaway cookies made from? Just simply Click here!
For more ideas on giveaways, all you have got to do is click!
Like what you have just read? Let us know in the comment section below!
We love hearing from our lovely readers!
Tags:
affordable DIY ideas for weddings
,
amazing giveaways
,
beautiful indian wedding
,
best giveaways ideas
,
best ways to invite guests on wedding
,
cookies
,
creative giveaways
,
customised wedding favours
,
delicious cakes and cupcakes
,
indian wedding giveaways
,
indian weddings
,
instantaneous pictures
,
latest news on indian weddings
,
latest on Indian Weddings
,
mehendi giveaways
,
personalised favors
,
personalized giveaways
,
popcorns
,
post wedding ideas
,
scented candles
,
scented candles for favours
,
trending gifts and giveaways
,
unique ideas for gifts and giveaways
,
wedding favours
,
wedding giveaways
,
wedding ideas