Let's face it! A pair of shoes can either make or break your day! That's why a beautiful wedding footwear should not only look the best but be comfortable suiting all of your bridal needs. And, when it comes to choosing that perfect pair, you have gotta be as judicious and careful as you can, since it contributes as one of the most the important constituents of a bridal trousseau. There are certain do's and don'ts that you should pay heed to before going on a shoe-hunt! So, here are some useful tips you must take a quick note of, and mistakes you must avoid while choosing that perfect pair of shoes for your wedding!
Tip #1
First Comes the Dress!
Image Credits: Brides Of Sabyasachi
Your bridal dress should practically be the first thing you shop if you are getting married! Yes! even if you think you have found the right pair of wedding shoes for your big day, you've got to be patient enough to see if it matches or complements your wedding dress. Not just the colour, style and the type of design and embellishments on your dress together decide if a pair of sandals would go with it, but also the length of your dress plays a significant role in the entire process of buying a pair of shoes. If the length of your wedding lehenga will eventually hide your feet, then there is no need to spend a fortune on something which no one would be able to see. Another reason to finalise your bridal dress first is that your dress-stylist or tailor will be able to elongate or shorten the length of your bridal dress based on your wedding shoe-height.
Mistake #1
Leaving Shoe Shopping for the Last Minute Hauls
Bride or not, last minute hauls bring nothing but a panicky trip to the closest marketplace with regretful and compromised shopping sprees. A bride must abide by this one rule; the next thing she must do after finding that perfect wedding dress for herself is to look for an equally gorgeous pair of shoes! It's better to start your wedding shoe-hunt early than make peace with a pair of heels you just had to purchase out of the limited options due to lack of time and resources. Not only this, if your wedding date falls within the busiest days of wedding season, it would be smart of you to start early 'cause an approaching wedding season entails quick emptying of stocks in the shoe-market!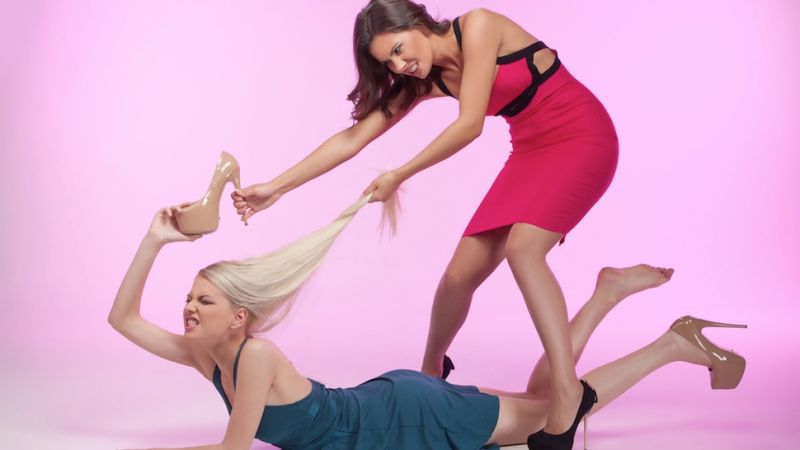 Source 
Tip #2
Explore!!!
Source
The more you explore the more options you will have while looking for your bridal footwear! So set aside a lot of time out of your shopping schedule to browse the websites, online vendors and to stay updated with the latest trends in bridal footwear. Try as many pairs of shoes you can, go to as many shoe-stores and explore all the markets and places where you know you can find your wedding shoes. Because of girl! It's your wedding, and finding the most comfortable and stylish bridal footwear should be one of your major shopping priorities!
Mistake #2
Completely Relying on Online Shoe-Shopping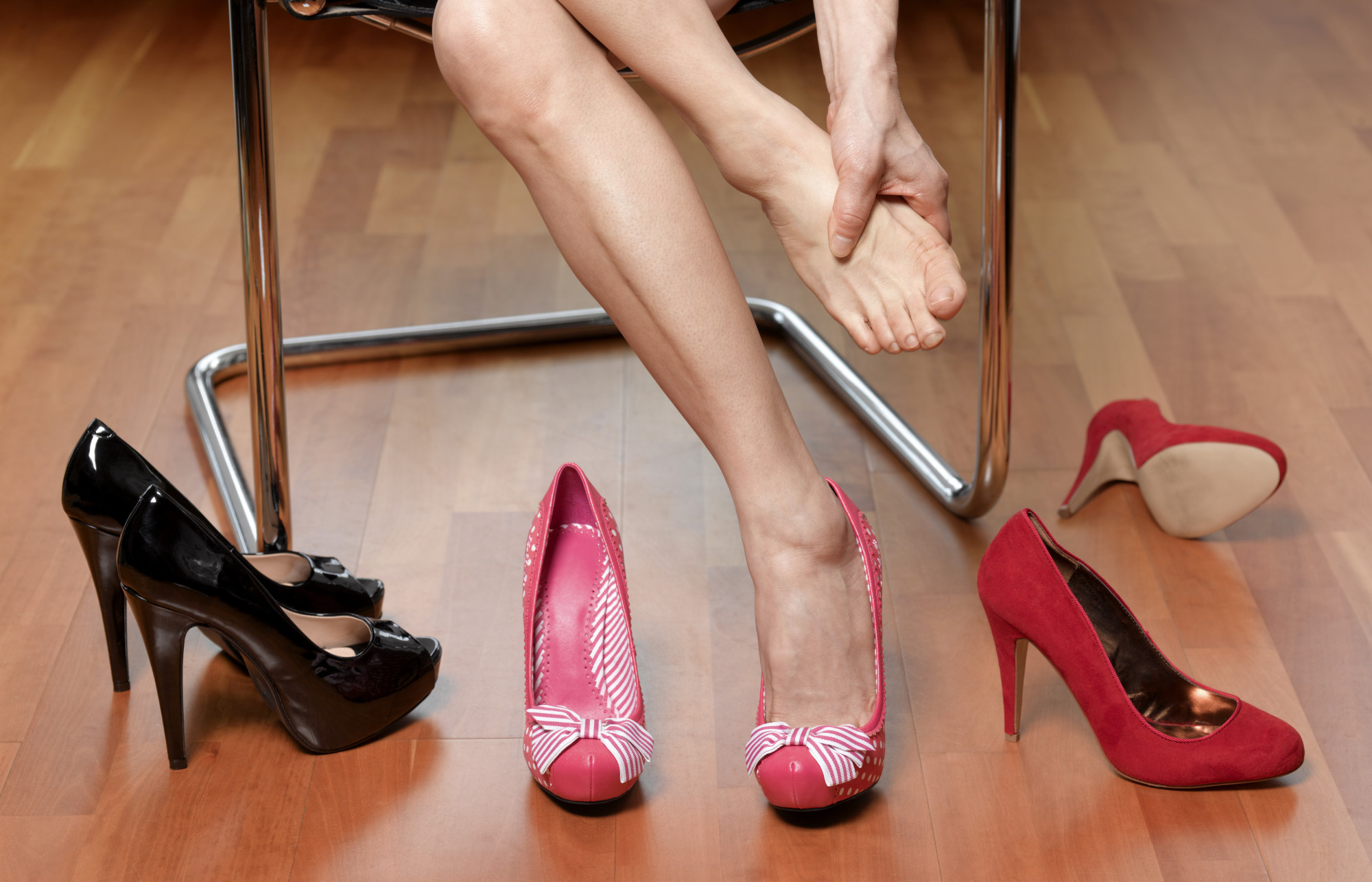 How many times did you have to exchange the apparels you bought from an XYZ online shopping store? And, it gets rather tricky if you plan on getting your wedding shoes from an online shoe store. Though online shoe-retailing websites are undeniably an easier alternative, the major drawback of the same is that your decision would be conditioned only by the looks of a pair of footwear along with the uncertainty which hovers on the fitting of a particular pair of shoes you decide to add to your virtual cart. Hence, it can bring an additional stress to a bride if what she chose over a screen didn't turn out to be the same she was expecting it to be. It could be the slight variation of colour, design, an uncomfortable fit, its durability, quality and the height of the heel which could make your online purchase go in vain. Hence, for a comfortable and dress-matching pair of wedding shoes, a bride-to-be has to try all the potential picks and in order to get the same, offline shopping is a practical way to go!
Tip #3
Break Away from the Monotony of Outworn Shoe-Colours!
Image Credits: Rajveer Photography
If golden, red and silver are too mainstream for you, it's absolutely okay to create a colour contrast that will match your style quotient. You can even experiment with the type of heels you are planning to wear. But, remember to choose the one which is the most comfortable for you to walk in! I am sure, blisters are the last thing you would want as a bride on your wedding day! You can also quirk up your wedding outfit game with matching your wedding shoes with your groom's outfit, or his headgear or even his shoes.
Mistake #3
NOT PRIORITIZING YOUR COMFORT!
Image Credits: Oragraphy 
Even if you have found the prettiest pair of shoes for your wedding, your comfort should be the first thing you must choose over fashion! Going for an extremely unbearable pair of shoes is not an unusual mistake many brides commit while choosing their wedding footwear. But you shouldn't tread on the same path! I mean, style is good, but there cannot be a more embarrassing thing than stumbling and falling in a 'fancy' pair of shoes that too on your wedding day. So, when you find a potentially perfect wedding shoe for yourself, practice walking in the same pair for about 2-3 minutes to see if you are comfortable with them or not. If you are not able to stand for a short span of 3 minutes, the shoes you are planning to buy are not a good option for you.
Also, when it comes to choosing the type of heel you are going to wear on the day of your wedding, pick the one which you have always been comfortable with and not the one you think you're supposed to wear.
Tip #4
Choose the Heel According to Your Wedding Venue!
Image Credits: The Cheesecake Project
Planning a beach wedding? Let's just drop the idea of a wearing a stiletto heel! Well, not just beaches, pointy heels won't make the right choice if your wedding functions have been arranged in a venue with garden set-ups. So, before you go shoe-shopping for your wedding, first check what kind of flooring you are going to have at the venue.
Mistake #4
Forgetting to Pamper Your Feet
Image Credits: Google
Don't forget to pamper your actual feet! A wedding means you will be on your toes, literally, throughout the events and for that, you will want to feel your best! Brides can go for a quick foot massage in addition to the usual bridal pedicure. After all, a gorgeous pair of shoes would bring no joy if your feet are tired from the previous pre-wedding events.
Tip #5
Keep a spare pair
(Just in case!)
Image Credits: Pinterest
A broken heel to a shoe-lover is what a heartbreak is to a lover! And if you are one of the brides who love her heels like anything else, you know what I am trying to tell you! So, for being on the safer side, do keep a spare pair of sandals and heels because our love and hate relationship with heels are nothing but due to their whimsical tendencies to get broken anywhere and anytime! Remember, the one you choose to be a spare pair should necessarily be a comfortable pair of shoes that matches your wedding dress in an elegant manner!
Well, I hope you found these 5 tips and the mistakes useful for your wedding shoe-shopping!
Did we miss something? Do let us know in the comment section below!
More on bridal wear:
ADD GLORY TO YOUR BRIDAL LOOK WITH THIS GORGEOUS FOOTWEAR JEWELRY TREND
PRETTY (AND COMFY) SHOES YOU CAN WEAR TO AN INDIAN WEDDING!
Tags:
beautiful bridal shoes
,
bridal accessories
,
bridal shoes
,
bridal shoes ideas
,
bridal shoes mistakes
,
bridal shoes tips
,
bridal shopping tips
,
indian bridal shoes
,
prettiest bridal shoes
,
tips on bridal shoes
,
women's wear fashion